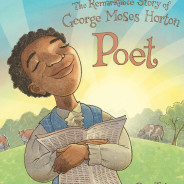 Reader Engagement Project: THE BOOK Poet: The Remarkable Story of George Moses 
Horton, a nonfiction picture book by Don Tate (Peachtree Publishers), 
tells the story of a North Carolina man who spent his lifetime writing and performing poetry despite being enslaved. For most of Horton's life, words were the only freedom available to him. "Fascinated by the power of words, Horton taught himself to read and began composing verses…remarkable man's life offers a new perspective with remarkable clarity." —Kirkus Reviews, Starred Review...
read more